Welcome to the official Web site for Codman Community Gardens!

ODMAN COMMUNITY GARDENS is part of Codman Community Farms in Lincoln, Massachusetts. We're a diverse group of gardeners: novices and experts; young and old; urban, suburban, and rural. We rent for the growing season an award-winning collection of small organic garden plots in this historic and agriculturally-minded community.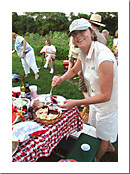 We're successful because of our members, many of whom enthusiastically pitch in their services—spring plot staking, fall clean-up, water line and faucet maintenance, administrative tasks, etc.—before, during, and after the growing season. It goes without saying that all members greatly value the many benefits of growing our own organic vegetables, flowers, and herbs.
The soil at Codman is remarkably fertile, due to the yearly decomposition of tons of organic matter, and the annual plots are tilled each spring. A limited number of perennial plots are the pride and joy of some members, who grow everything from heirloom rose varieties to Concord grapes and golden raspberries.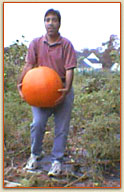 To walk the paths of Codman Community Gardens on a cool Summer morning is to refresh the senses—the dew sparkling like diamonds on the grass and flowers; the urgent call of the crows from the treetops along the railroad tracks; a cottontail rabbit startled from its naughty habit of sampling the carrot-tops and parsley; the aroma of fresh wild mint underfoot... Early evening brings the heady essence of Nicotiana, that most beautifully fragrant evening-blooming white trumpet flower;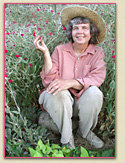 the friendly back-and-forth of neighboring gardeners about who will have the first red, ripe tomato (or whether the sunset is an 8 this night or a 10); the perfectly choreographed neon ballet of the fireflies; a shooting star…
Where were we? Oh, right—as of this writing, there may or may not be openings available for the 2007 season. You may contact us for information, or check the bulletin board in the C barn at Codman Farm.